Profile
Elias Moukheiber was born in Beit Mery in 1968 to a businessman, Samir Moukheiber, and Georgette Nassib Massoud, from Sakiet el Misk near Bikfaya. His father was one of the founders and key players in the field of aviation through his activities in Alitalia and Iran Air in Lebanon and the whole Middle East region. His mother, a housewife, devoted her life to her children. Later, she assisted her husband in his work and founded her own company. Elias Moukheiber has two sisters: Catherine, who held high-rank positions in the banking sector and in major international financial firms, mainly in Madrid, Brussels and London where she resides with her American husband Michael Barzelay, a professor at the London School of Economics; and Lina, Director of Development at Saint George Hospital in Beirut. Moukheiber is also the nephew of the prominent Metn leader who was a member of parliament, a minister and a deputy parliament speaker for many years, the late Dr. Albert Moukheiber.

Elias is married to Maryam Jules Iskandar, grand-daughter of the late Maurice Gemayel who was often a minister and elected member of parliament. He was also elected President of the Food and Agriculture Organisation (FAO) for two consecutive times. Elias and Maryam have two sons and a daughter: Samir, Mark and Julie.

Elias Moukheiber received primary and complementary education at the French Lycée in Beirut. But soon, the bloody events caused by the war took him away from his country and in 1984, he fled to Saint Julien en Genevois, in France where he spent two years studying at the Lycée Mme de Staël and there, he earned his French baccalaureate. He moved to Switzerland soon after and followed courses in political science and economics before moving to the United States to specialize in Government at the College of William and Mary in Virginia.

He returned to Lebanon and graduated in 1997 from the Faculté de Droit de l'Université St. Joseph in Beirut with a Law Degree. After an internship at Charles Airut Law firm, he opened his own firm practicing private law, including corporate and real estate.

As a student, Elias Moukheiber followed the lead of Albert Moukheiber; thus he was not member of any party, at a time when political groupings were proliferating in schools. Elias was a vehement supporter of his uncle who staunchly rejected all forms of sectarianism and thus never supported warring parties back then. In France, Elias founded at his school the "Foreign Students Club", a cultural and political movement aiming at promoting foreign countries, cultures and civilizations. In Switzerland as well, Elias played a major role in associations of Lebanese Students overseas. In the United States, he participated in all the students' demonstrations claiming Lebanon's freedom, sovereignty and independence. In 1996, along with other members of the family and friends, he joined the team campaigning for Dr. Moukheiber (known back then as the Opposition's Civil Patriarch) who lost the elections. Finally, Dr. Moukheiber won a seat in parliament in the 2000 elections.
Press Releases
El Joumhouriya 13/10/2012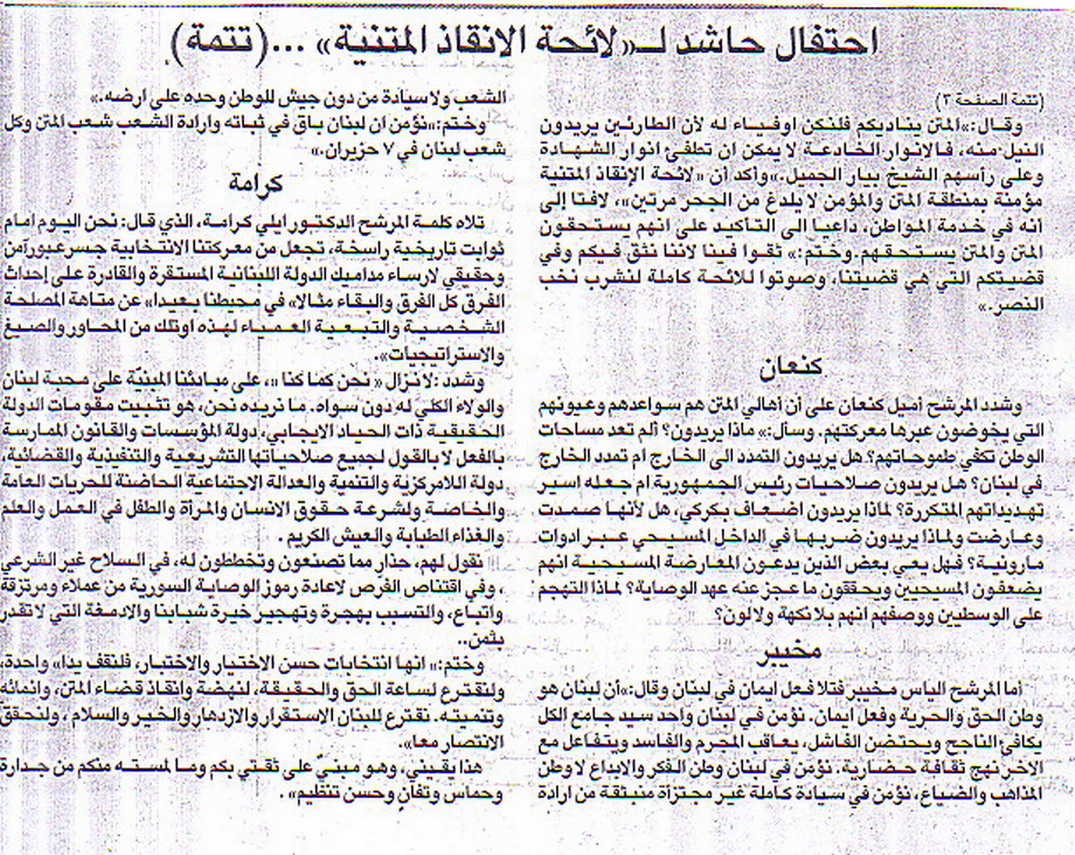 2009-06-02 / Addiyar Newspaper_P.17_02/06/2009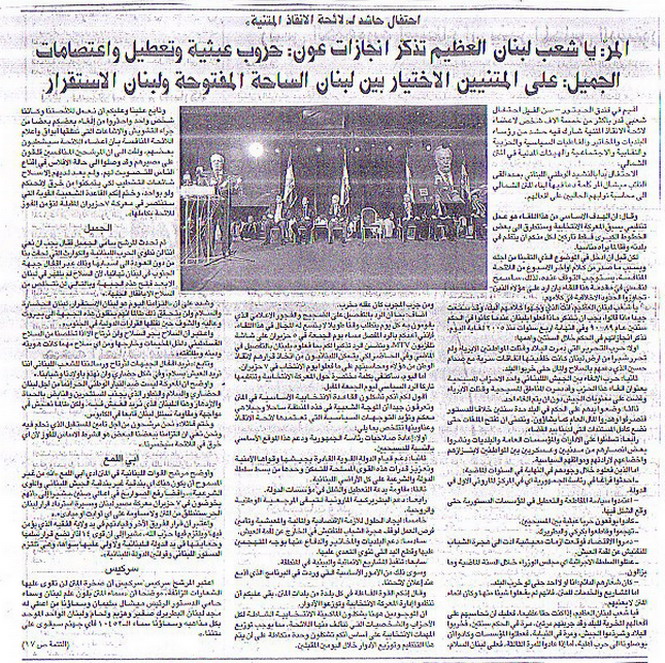 Addiyar Newspaper_P.2_02/06/2009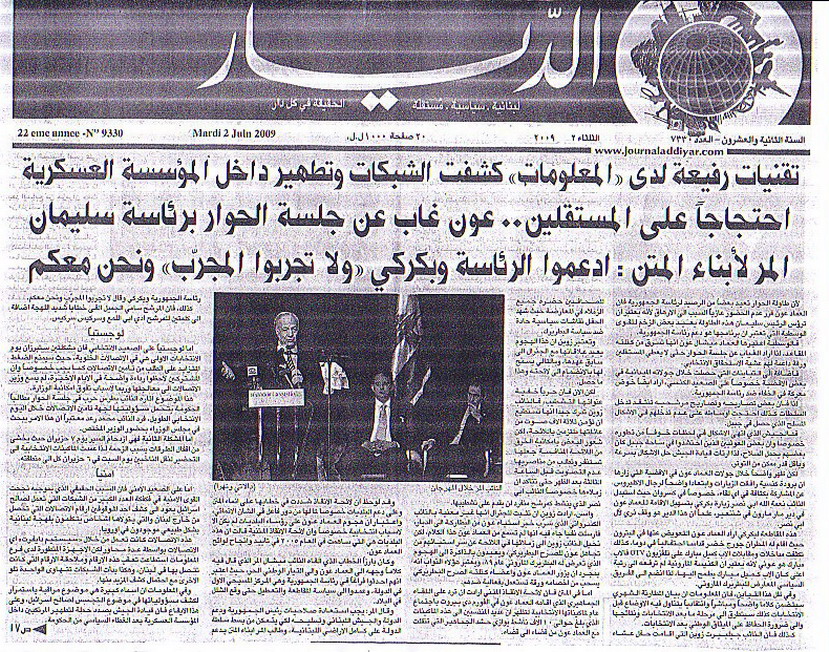 Addiyar Newspaper_P.1_02/06/2009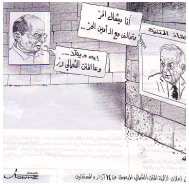 Al Balad Newspaper _P.40_2009-04-28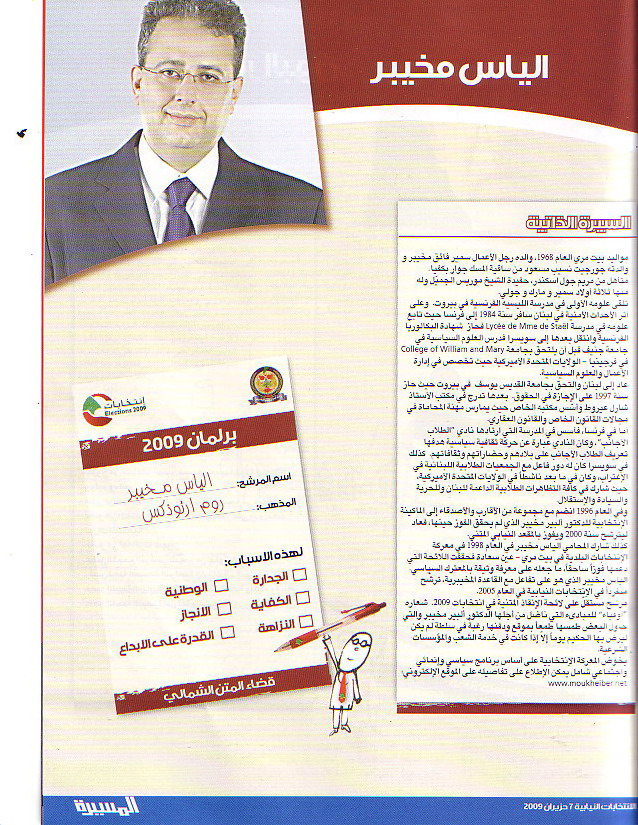 Al-Massira Magazine June 4, 2009
Videos
ELIAS SAMIR MOUKHEIBER - THE MAN, THE SPIRIT, THE LEGACY
TV Interview with Elias Moukheiber on MTV_with Mr. Fadi Chahwane_14_02_2010_Part IV
TV Interview with Elias Moukheiber on MTV with Fadi Chahwane 14-02-2010_Part II
TV Interview with Elias Moukheiber on MTV_with Mr. Fadi Chahwane_14_02_2010_Part III
TV Interview with Elias Moukheiber on MTV_with Mr. Fadi Chahwane_14_02_2010_Part II
TV interview with Elias Moukheiber on MTV with Mr. Fadi Chahwane -14-02-2010_Part I
TV interview with Elias Moukheiber on Future News_Kalam Beirut_12_06_09_Part V
TV interview with Elias Moukheiber on Future News_Kalam Beirut_12_06_09_Part IV
TV interview with Elias Moukheiber on Future News_Kalam Beirut_12_06_09_Part III
TV interview with Elias Moukheiber on Future News_Kalam Beirut_12_06_09_Part II
TV interview on Future News_12_06_09_Part I_Kalam Beirut
Awfiyak_Elias Moukheiber_Candidate for 2009_Parliamentary Elections_Metn_Orthodox
TV Interview with Me.Elias Moukheiber on LBCI_21_05_09_Badna Sawtak_Part V
TV Interview with Me.Elias Moukheiber on LBCI_21_05_09_Badna Sawtak_Part IV
TV Interview with Me.Elias Moukheiber on LBCI_21_05_09_Badna Sawtak_Part III
TV Interview with Me.Elias Moukheiber on LBCI_21_05_09_Badna Sawtak_Part II
TV Interview with Me.Elias Moukheiber on LBCI_21_05_09_Badna Sawtak_Part I
TV Interview with Me. Elias Moukheiber on MTV_19_05_09_Before News_Part V
TV Interview with Me. Elias Moukheiber on MTV_19_05_09_Before News_Part IV
TV Interview with Me. Elias Moukheiber on MTV_19_05_09_Before News_Part III
TV Interview with Me. Elias Moukheiber on MTV_19_05_09_Before News_Part II
TV Interview with Me. Elias Moukheiber on MTV_19_05_09_Before News_Part I
TV interview on Future News_06_05_09_Part II_Al Istihkak
TV interview on Future News_06_05_09_Part I_Al Istihkak
Interview With Elias Moukheiber on Future TV -04-08-2007 Part-VII
Interview With Elias Moukheiber on Future TV -04-08-2007 Part-VI
Interview With Elias Moukheiber on Future TV -04-08-2007 Part-V
Interview With Elias Moukheiber on Future TV -04-08-2007 Part-IV
Interview With Elias Moukheiber on Future TV -04-08-2007 Part-III
Interview With Elias Moukheiber on Future TV -04-08-2007 Part-II
Interview With Elias Moukheiber on Future TV -04-08-2007 Part-I
Fundraising
As per the applicable Lebanese electoral law, we can accept financial contributions and other donations originating from lebanese physical or moral persons Only.
Therefore, our auditor reserves the right to reject any contribution that does not comply with the above-mentioned regulations.
We thank you for your understanding and support.

Bank Audi SAL
Head Office Branch (Sofil)
Account №: 920063-01 (LBP)
Account №: 920063-02 (USD)
SWIFT: AUDBLBBX
Forum
Thanks for visiting our website,for your comments and suggestions please fill in the following form